For most equity strategies diversified across global markets, this year's results will be painful. Barring a dramatic rise between now and the end of 2022, red ink will prevail. But when losses dominate, it's time to start looking for bargains.
The longer your investment horizon, the more confident you can be that the losses thus far imply relatively attractive return expectations. But the analysis is particularly tricky at this point as several risk factors dominate the outlook, including the war in Ukraine, elevated, rising and signs that a recession is imminent.
Baron Rothschild famously said that "the time to buy is when blood is spilling in the streets". By that measure, markets arguably offer an opportunity to take risks at a point of maximum pessimism. Assessing year-to-date results for the world's equity regions, through a range of proxy ETFs, certainly paints a grim profile.
With the exception of Latin American stocks (), major segments of world stocks are deeply in the red in 2022, ranging from a relatively mild 14.6% haircut for stocks in Africa () to a devastating crash of 71 .0% in Eastern European markets) .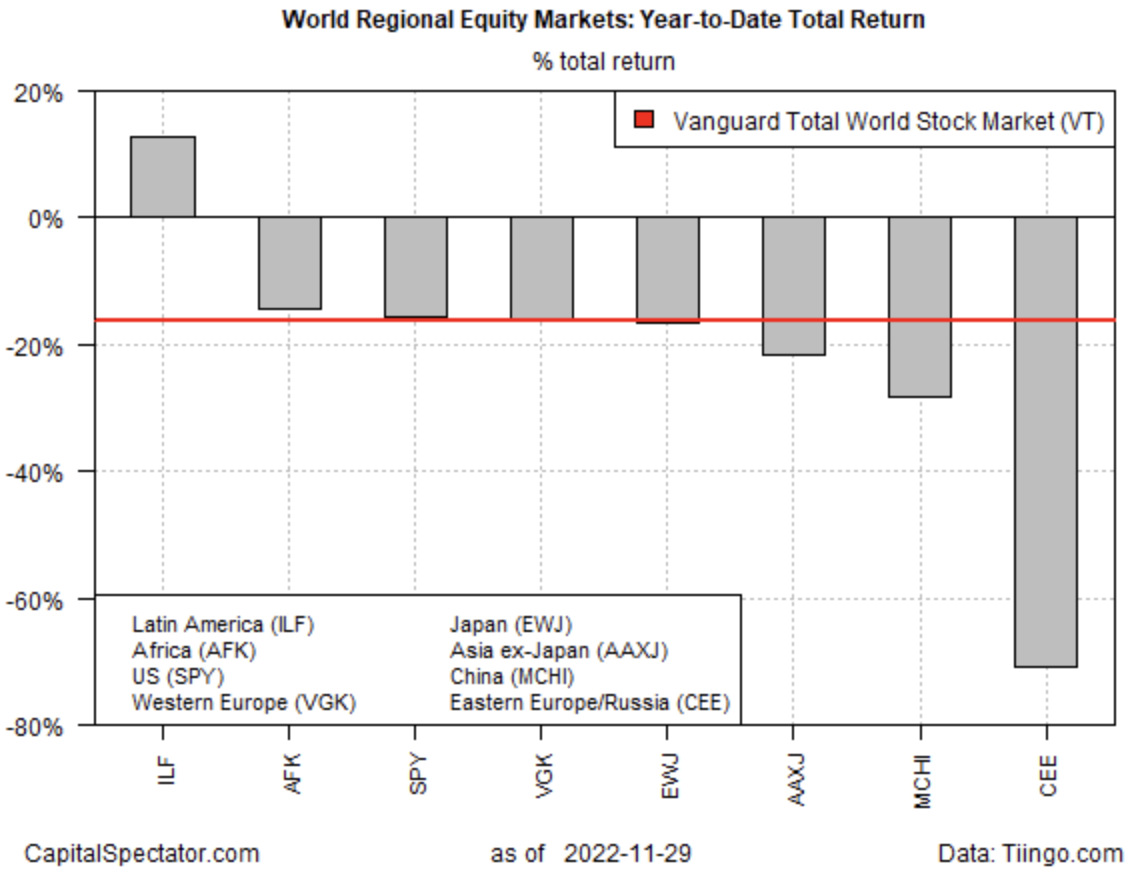 The world benchmark, based on the Vanguard Total World Stock Index Fund (), is 16.5% in the hole so far this year. The good news: VT has recovered in recent weeks and raises hopes that the worst is over.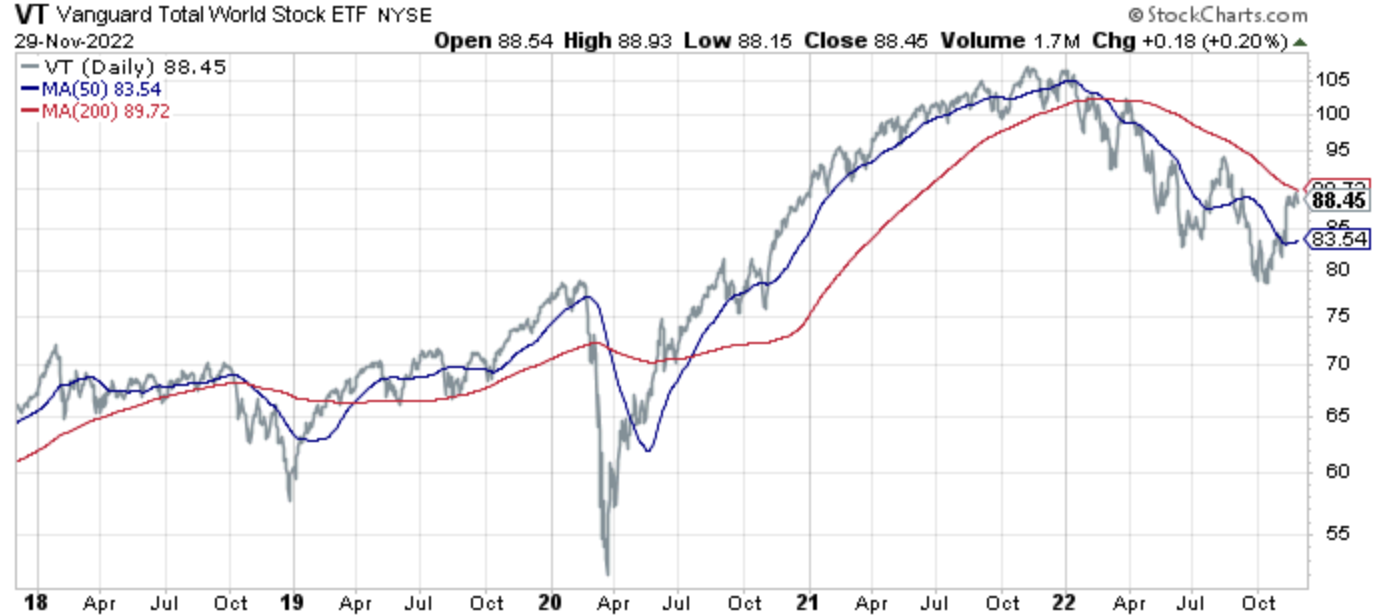 No one can reliably name bottoms (or tops) in real time and so mere mortals are once again left to decide whether we are at an appropriate point to start rebalancing in favor of higher equity risk. There is reason to move to a risk-taking stance, if only partially, on the assumption that the losses so far in 2022 have significantly increased the expected long-term returns for equities.
The caveat is that the trend still looks bearish. Using VT as a benchmark, the latest rally lifted the fund just below its 200-day moving average. Encouraging, but until VT moves decisively higher and holds its position, the latest bounce looks like another bear market rally.
The big question for investors is to decide if they're more comfortable being early or late for the next bull market. Either way, you will have to pay an opportunity cost. A third option is to diversify the risk-on-trades over time, by reinvesting capital back into stocks at regular intervals, thereby limiting the losses from timing errors that most investors are sure to face. On that basis, it is now attractive to nibble on markets.
Using a series of moving averages to track trending conditions for all of the funds listed above suggests that the recent selloff was excessive. That is no guarantee that we will avoid even lower lows. But after a year of heavy losses, it's reasonable to throw some money into the stock markets.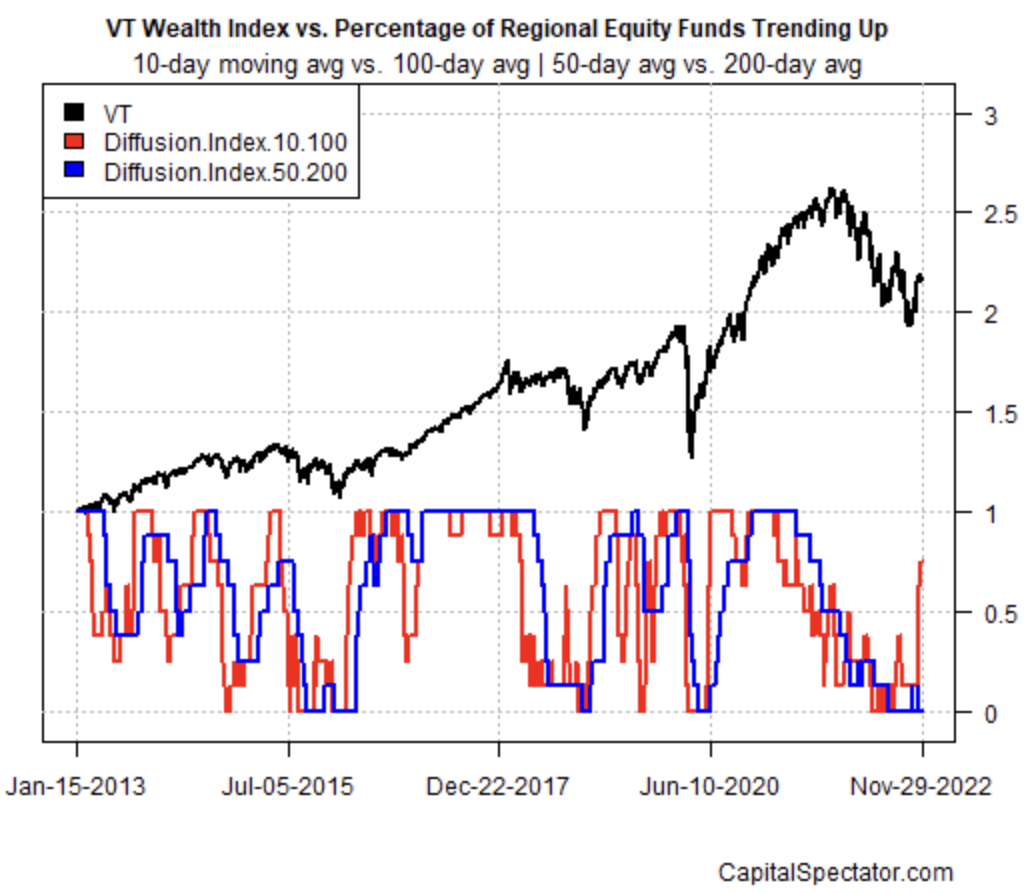 Bearish news is likely to continue to weigh on sentiment for the near term, if not longer. But markets always price in the future. It's always a messy affair, and this time is no different. This may be another false dawn, but at some point there will be a real bottom. There's nothing wrong with waiting for confirmation that the bear market is over, but for investors with a relatively high risk tolerance, the current environment looks intriguing.
A key factor is deciding whether the Federal Reserve is about to raise interest rates. On that note, the public is looking for new clues in today's speech by Fed Chairman Jerome Powell. Expectations are high that he will hint that policy tightening will begin to ease. Hope springs forth forever, again.
"This is a Fed-induced recession, so if it does eventually turn, the market should move up pretty quickly," said Steve Grasso, CEO of Grasso Global.