Jesse Ziegler | Nov 5, 2022
A parent's guide to the Greenger CRF-E2 electric motorcycle.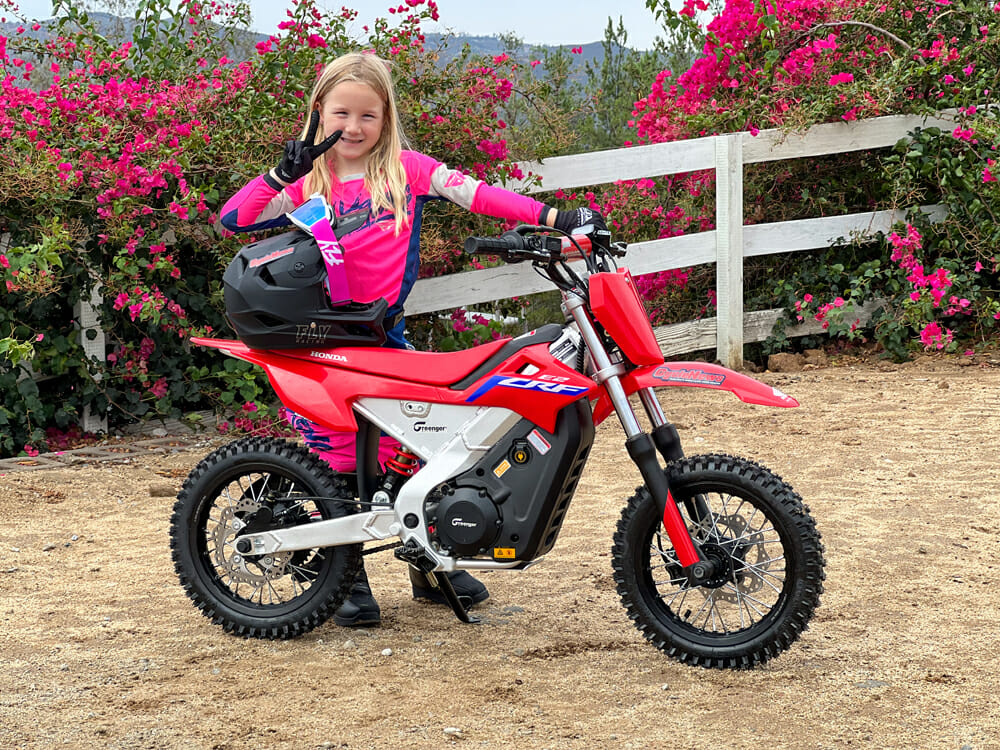 Look good, feel good. The Greenger CRF-E2 has Honda CRF style covered.
Words and Photography by Jesse Ziegler
My seven-year-old daughter, a capable bike and motorcyclist with more e-bike experience than I'll ever have, is less interested in the performance specs and ergonomic dimensions of dirt bikes than I am, that's for sure. She likes electric bikes for the standard benefits of low noise, no heat and easy handling. The fact that we can talk to each other while she drives is a big advantage. And, I've mentioned this before, it's likely that her generation of bikers only rides electric machines. So I understand the interest in this and other entry-level e-machines.
But really, kids bike reviews like this one aren't for kids, are they? They are for parents! So here's my parents' guide to the Greenger CRF-E2 electric motorcycle, an officially licensed product from Honda.
First off, this bike is not manufactured by Honda. It has the wing. It has the "CRF". And it is only for sale at Honda dealers. But that's as close to a Honda-built product as it gets. The branding is bold from Honda's perspective (official logos and trademarks are everywhere). It's so good from the Honda brand that anyone who doesn't read the fine print will assume that this was made along with the rest of the Honda CRF family of gas-powered dirt bikes in a Honda factory somewhere.
Two power levels let new riders get their dirt on at a leisurely pace. The silence makes it easy to poach empty lots on the regular road.
If you're new to licensing agreements, here's how they work. A company (in this case, Greenger) builds a product and a brand (Honda) allows them to put their logos and trademarks on it for a cut in sales profit. Simple enough, in theory, but when it comes to building a motorcycle with Honda's name and logos on it, there needs to be more oversight, right?
Other manufacturers are doing the same with the Stacyc line of electric balance bikes. There are KTM Stacycs, Harley-Davidson Stacycs (HD owns Stacyc), GasGas and Husqvarna Stacycs, and even Stacyc Stacycs. These are all available from the respective motorcycle dealers.
The biggest difference here, I think, is that the Greenger CRF-E2 really does look like a Honda-built machine. And the Stacyc looks like a Stacyc regardless of the color. The KTM brand group has its own electric minibikes that are clearly different from licensed models. Not Honda. Yet.
You can pull the battery pack out of the Greenger in about 30 seconds. A spare will cost you nearly $1000, or 200 gallons of gas for $5/gallon.
All of this puts Greenger in a prime position to leverage Honda's brand equity as they race to grab parents' attention away from offers on gasoline and other e-bikes.
Billed as a 50cc equivalent, the Greenger CRF-E2 is a bigger bike than most entry-level 1950s models with the Honda badge. It sits taller but weighs about the same as the legendary CRF50F, with an adjustable seat height from 24.8 to 25.5 inches. The CRF50F comes in at 21.6 inches. The Greenger also has 12-inch wheels versus the CRF50F's 10-inchers.
We weighed in the Greenger at 113 pounds and Honda claims the CRF50F is 111 roadworthy.
The lower seat height is almost too high for my daughter (48 inches tall with an inseam of 20 inches). But we got it to work by manually removing as much preload from the shock as possible. She can grow into this bike for a few years.
Ergonomics may be stretched for your little rider, but the bike has plenty of upward growth room. A showroom fit at your Honda dealer is in order before purchase.
Ergonomically, it's also a bit oversized compared to the more traditional gas-powered entry-level models from the 1950s. Handgrips, brake controls (front and rear brakes are hand-operated) and the range for those brake controls are just on the edge of usefulness. range for my little rider's grippy numbers. I've moved the brake levers as much as possible to get a good reach of her, and they're just a little too far out and still big. This is common. Stacycs had this problem since launch but released a small grip accessory to fix it. Dom, in the sense that these are primarily bikes for kids. They should not have adult handles. But they do. More comfort and control could easily be achieved here.
The rear shock has, as mentioned, adjustable preload. It also has an adjustable rebound circuit. And the shock seems nicely built with solid click hooks and a premium feel. The fork is not adjustable.
The brakes feel great and stopped her, and me, just fine (parents stole their kids' bikes forever, I've had some slack!)
The Greenger is powered by a 48V BLDC motor with an output of 1 kW, a maximum power of 2.5 kW and a torque of 5.5 Nm. It has a two-stage power management system that allows the bike to be used by true beginners in stage 1 and more rambunctious kids and bigger "kids" in stage 2. The fuel tank is an easily exchangeable 20 Ah lithium-ion battery with a handy charge indicator.
Honda is written on everything.
Greenger claims the CRF-E2 will hang out for two hours in ideal conditions on a full charge. We put that to the test with a rain-prepared corner in the backyard and some hefty "kids" (okay, it was me) trying to knock down fast lap times. Under a much greater load than usual and at about 100 pounds over the labeled weight limit, the bike ran on the fast stage, almost wide open, for about 30-45 minutes before giving an error code that the battery voltage was low. My daughter couldn't carry the battery on her own until she was too tired/distracted. Two hours for a mildly motivated seven-year-old seems about right.
Charging with the included 110V wall charger takes about four hours to get to 100 percent.
On paper and in the backyard and empty towns we've poached, the Greenger CRF-E2 is a pretty sweet ride. It goes well! But it's not trying to be a full-fledged racer. This is exactly what kids need to prepare for a lifetime of riding. But it's not up to the kids; it's up to the parents. And there's only one thing we really care about. Okay, two things.
First, we care about how much things cost. And two, we care how much time we have to spend working on/fixing things.
In my time with the Greenger CRF-E2, I don't foresee much maintenance time. I've tweaked the bars and levers and suspension a few times to make it fit my kid, and while I'm not overly impressed with the quality of the mounting and tolerances on things like bar mounts and brake reservoir bar clamps, I don't think so that one of those things will break or wear out. I am sold on that aspect.
At 48 inches and an inseam of 20 inches, our seven-year-old test rider tiptoed into the lowest setting where we could leave the Greenger CRF-E2 sitting. We had just enough spring preload on the shock to keep the shock from bouncing and the fork tubes sliding toward the handlebars. Shorter riders should be caught when they stop.
I have a little problem with the price. This baby lists $2950 plus dealer fees and freight for another $300 pre-tax. We're going to get in here soon for $3500. You can buy a brand new CRF50F gas powered machine that will probably last 25 years on one oil change for $1699 plus the same $300 and tax. That's a $1300 difference on the same brand machines with similar performance specs. This is important for a recreational children's bicycle.
But since this isn't an actual Honda-built product, it slides in between two comparable Honda models. It's almost a CRF110F in size. Just a bit smaller and lighter all around, and the price is almost the same. So the comparison game isn't easy here, but as a parent I know I'm doing it!
The dirt bike lifestyle starts early. With an almost silent electric bike like the Greenger CRF-E2, it can easily get started on a vacant lot.
For my kids, I don't know if we'll ever want to go back to gas-powered motorcycles. Electric bicycles are usually much more convenient and convenient. Heck, we can even poach local empty lots more easily! But money sometimes rules households more than convenience. We'll probably see more entry-level electric bikes from Honda and other manufacturers. That will drive these prices into a more competitive-to-gas range. But for now, almost all entry-level electric motorcycles are $3000-$5000.
It is easy to spend money on children. It's even fun. And if you're looking for an electric motorcycle to do that, the Greenger CRF-E2 is a pretty good one so far. CN
Greenger X Honda CRF-E2 Specifications List price: $2950 Electric motor: 48V- BLDC motor with inner rotor Rated power: 1 KW / 2000 rpm Max. power: 2.5 KW Torque: Speed: 5.5 Nm; Max: 25 Nm Max. Engine speed: 4000 rpm Final drive: 1:7.1 Drive mode: Stage 1, Stage 2 Cooling system: Air-cooled Power pack: Removable lithium-ion battery, L*W*H:145*91*270mm, Weight: 5.9 kg (13 lbs.) Capacity /energy: 20 Ah/960 Wh Charging time 100%: Typical: 4 hours, Fast charging: 2.5 hours Charging time 80%: Typical: 3.2 hours, Quick charging: 2 hours Run time : 2 hours in ideal conditions with full charge Charging voltage: 90-264 V/50-60 Hz Charging input: 1.3 A at 230 V (AC) Charging power: 290 W Frame: Aluminum twin-spar with double holder Handlebar: Tapered aluminum ϕ22 mm Front suspension: Hydraulic conventional telescopic fork ϕ33 mm, length 600 mm (24.25 in.) Rear suspension: DNM rebound/preload adjustable, length 230 mm (9 in.) Front/rear travel: 100 mm (3.9 in.)/97 mm (3.8 in ..) Front Brake: Hydraulic caliper with 190mm petal-style rotor; right lever operated rear brake: hydraulic caliper with 190mm petal-type rotor; Left-hand lever operated Front/Rear Rims: 12×1.6 spoke aluminum rim Front/Rear Tires: 60/100-12 Kenda Millville K771 Knuckle Chain: 428H Headset Angle: 25° Triple Clamp Offset: 25° Trail: 1.3 in Wheelbase: 38 inch Height handlebars: 33.8 inches Ground clearance: 7.8 inches Seat height: adjustable 24.8 inches / 25.5 inches Overall length: 55 inches Overall width: 27.1 inches Overall height: 36.2 inches Max. tax: 99 pounds. Weight: 106 pounds.
Click here to read the Greenger X Honda CRF-E2 electric mini bike review in the Cycle News Digital Edition Magazine.
Click here for the latest Cycle News "Other" bike reviews and news.