This article is part of our morning briefing. Click here to get it in your inbox every weekday.
"At least it deepened my faith in my faith," says Tree of Life survivor
Today marks four years since the Pittsburgh synagogue massacre, the deadliest anti-Semitic attack in American history. I traveled to Squirrel Hill on Wednesday to visit Barry Werber, who survived the attack, and others in the community as they recover and rebuild.
Personal PTSD: Werber watched as his friend Melvin Wax was shot in front of him that fateful morning. "To this day I can't go into a room and sit with my back to the door," he told me, sitting at the head of his dining table, staring at his front door.
Pittsburgh strong: Squirrel Hill, home of Mr. Rogers, has walkable tree-lined streets and synagogues of every denomination. "It's like a mini-Jewish paradise," said Dea Fern, whom I met outside the kosher butcher. A little further on, a rabbi from Chabad de Lubavitcher quoted Rebbe, who was known for saying that "labels are for clothes, not people."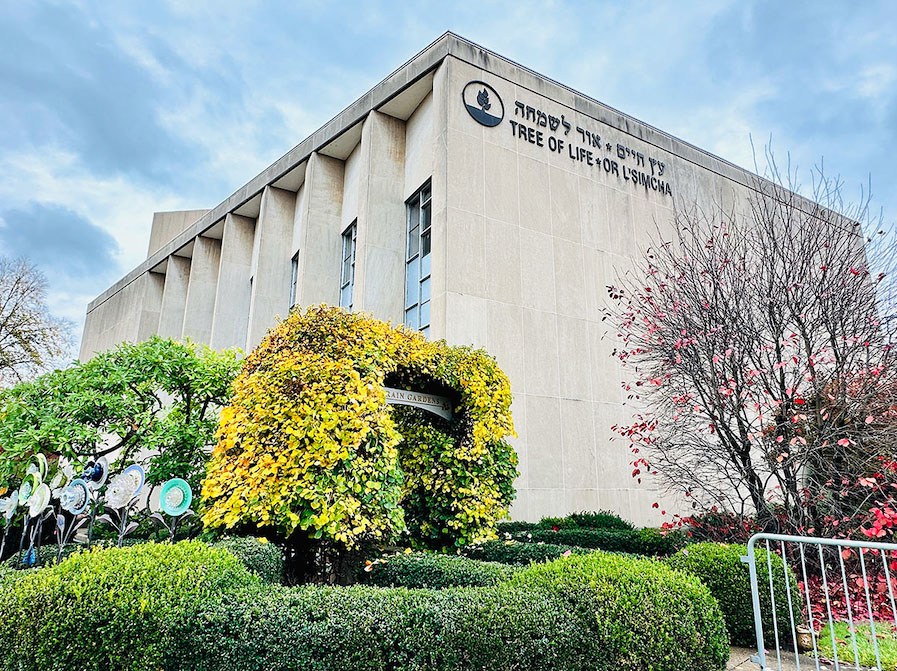 The Tree of Life synagogue, photographed on Wednesday. (Benyamin Cohen)
Common PTSD: The 10.27 Healing Partnership hosts monthly meetings with survivors, organizes memorial events, and provides educational resources and post-traumatic support. The director, Maggie Feinstein, said she doesn't expect her group to last forever. "It's short-lived," she said. "I have faith in that."
Trial and error: The shooter's trial is slated for spring. Werber is on the witness list. "I hope I can be there, but I'm not looking forward to it," he said. "There is no closure for us. It just goes on and on."
More Tree of Life coverage…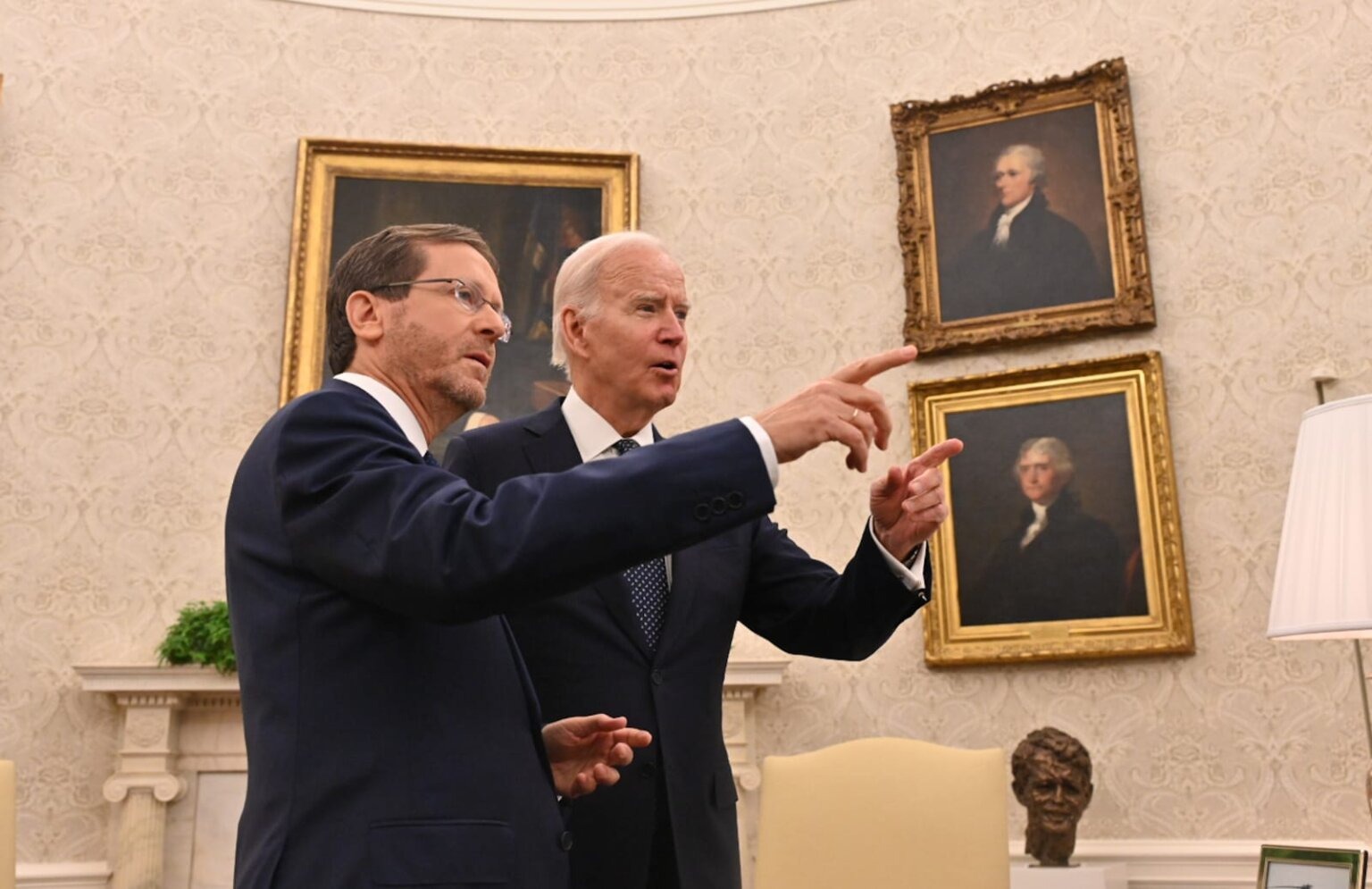 Israeli President Visits DC Days Before Israeli Elections: "When President Joe Biden welcomed Israeli President Isaac Herzog to the Oval Office on Wednesday," writes our political correspondent, Jacob Kornbluh, "former Prime Minister Benjamin Netanyahu was more than an ocean away — but his presence in Washington threatened." Herzog, who took on the largely ceremonial role in July, will be tasked after Tuesday's vote to mediate the expected political deadlock by selecting which politician will have the first chance to attempt to form a coalition.
The biggest Jewish Hollywood character you've never heard of: You hear the name Duke and imagine a mountain of a man in a weathered Stetson firing his Colt from a fast horse. Well, this isn't about him. It's about another Duke – producer Maurice Duke, the king of B (or maybe C) movies. He led the careers of Mickey Rooney, Zero Mostel and the dog Lassie. In 1961, he turned down an offer to lead an emerging band. It was the Beatles. Read the story
And another: The New York Islanders hockey team named their press kit for Stan Fischler, 90, the legendary hockey journalist, during Wednesday night's game. Fischler still writes about American hockey, although he now lives in Israel.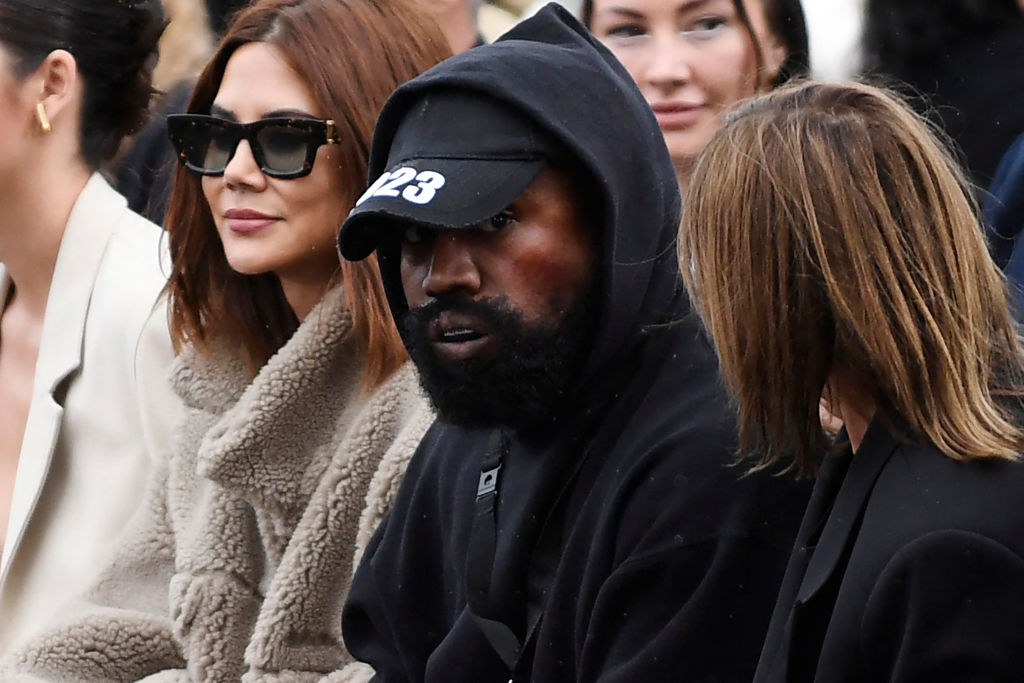 Spotify CEO Daniel Ek condemned Kanye West's anti-Semitic comments as "terrible" but said the platform would not remove his music. Ek said none of the rapper's lyrics violate Spotify's hateful conduct policy. Def Jam, the record label that owns the copyright to much of the music, could remove the songs if it wanted to. (Reuters, Hollywood reporter)
London's Madame Tussauds museum has removed its wax figure of West from the public. Curators moved it to an archive room. This has led to "Mel Gibson" trending on Twitter this morning, with people wondering why the wax figure of the actor and director, who has himself been involved in anti-Semitic rants over the years, is still on display. (Billboard, Twitter)
A day after Adidas cut ties with West, he showed up uninvited at Skechers headquarters in Southern California. Executives of the shoe brand escorted him off campus. "Skechers does not consider and does not intend to work with West," the company said in a statement on Wednesday. "We condemn his recent divisive comments and will not tolerate anti-Semitism or any other form of hate speech." (CNN)
Forwarding the news is now also available on our website. Click the blue button below to share it on social media or forward it to friends.
WHAT MORE YOU NEED TO KNOW TODAY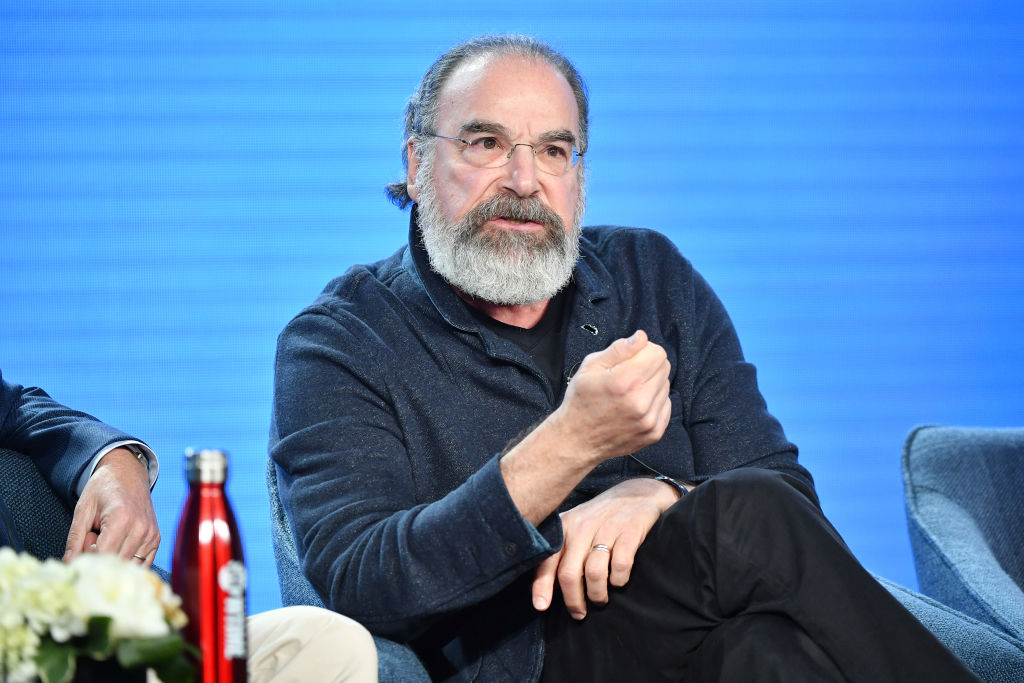 "My job for the rest of my life is to open the doors for others in need," says Mandy Patinkin. (Getty)
🎙️ Mandy Patinkin tells a podcast about Jews in 1930s Germany. It's called "Exile" and the first six episodes will be released next week. Patinkin is a spokesman for the International Rescue Committee and has traveled to refugee camps, including in Uganda, Serbia and Jordan. "We were all refugees," Patinkin told me when we spoke earlier this year. "And I thought: there I go only for the grace of God." (Deadline)
🇷🇺 As usual, a chief rabbi of Russia has accused a senior defense official of anti-Semitic hate speech related to the war in Ukraine, and a spokesman for the rabbi warned of the beginning of "a new era in Russia's relations with the Jews." (JTA)
🖼️ Nazis stole two paintings from a Jewish cabaret star. Now his heirs are selling them. The pieces are collectively worth more than $2 million and will be sold at auction on Nov. 17. Proceeds go to support underrepresented artists. (Smithsonian Magazine)
🚢 Israel and Lebanon signed the US-brokered maritime border agreement this morning. It comes after more than a decade of US diplomatic efforts and several rounds of direct and indirect talks between Israel and Lebanon. (Haartz)
🏈 The former high school football coach who, according to the Supreme Court, has the right to pray on the field will be reinstated next spring, according to court documents. The coach has spent the months since the court ruling on the conservative celebrity-speaking circuit telling the story of "the prayer that got me fired." (ABC News, Seattle Times)
Shiva Call ➤ Halina Silber, a Holocaust survivor rescued by Oskar Schindler, died at age 93.
What else do we read, election edition Fifth time is a charm? Your guide to the 39 parties competing for the Israeli vote next Tuesday… In Brazil's presidential elections, many Jews feel they are choosing 'between the cross and the sword'… Faith groups are weighing the impact of abortion on the midterm elections.
Has this newsletter been forwarded to you or are you reading it on our website? Get it in your inbox every morning by clicking the blue button below.
On This Day in History (2014): Taylor Swift released '1989', her fifth studio album and the first on which she collaborated with producer Jack Antonoff. He became one of Swift's most frequent and prolific collaborators – including on her new album 'Midnights'. And Antonoff's romance with Lena Dunham inspired one of the bonus tracks from 1989: You Are in Love, which Vulture considers the 79th best song Swift has ever performed. (Rolling Stone has it on 101st.)
On this day last year, we reported on the deaths of Mort Sahl, a legendary Jewish comedian, and Joyce Newmark, a rabbi who won with "Jeopardy!"
Click above to watch the trailer for the "Fleishman Is in Trouble" miniseries, based on Taffy Brodesser-Akner's extremely Jewish debut novel. In her review of the book, our Talya Zax called it "like Philip Roth, but feminist." The show, starring Claire Danes and Jesse Eisenberg, will debut on FX on November 17 and stream on Hulu.
–––
Thanks to Jacob Kornbluh, Sarah Nachimson and Talya Zax for contributing to today's newsletter. You can reach the "Forward" team at [email protected].