Most Asian markets rose Friday after a US Federal Reserve-driven sell-off the previous day, with Hong Kong leading the way on another major rally fueled by hopes China will reverse some of its painful COVID-19 policy.
Fed Chair Jerome Powell's pushback against expectations of a softer approach to monetary tightening shook trading floors and heightened fears of a global recession.
The governor told a news conference that while the size of the increases would likely decrease, they would come in at higher levels than expected.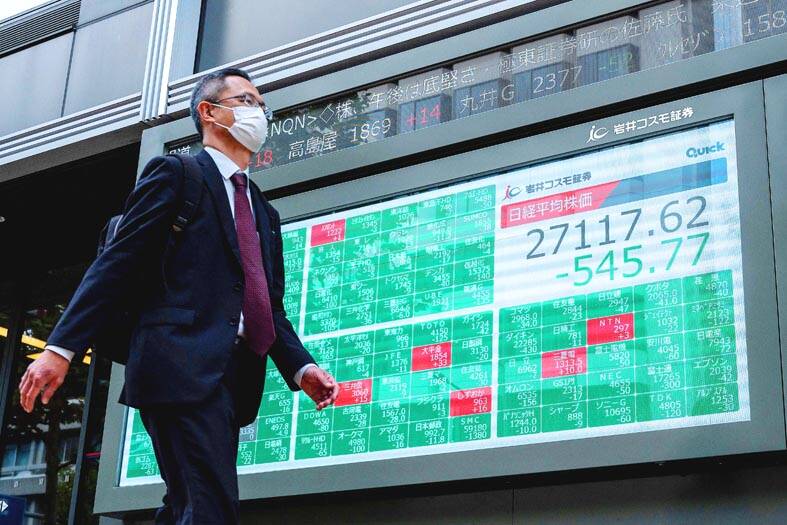 Photo: AFP
With the Fed pointing to a still strong labor market as a key reason not to deviate from its rate hike strategy, traders are nervous that a high figure in the report could give officials room to tighten more.
Hong Kong's Hang Seng Index rose 5.63 percent to 16,161.14 on lingering hopes that China will soon reverse its "zero COVID" strategy of lockdowns that has hammered the world's second largest economy.
The Hang Seng spiked 8.73 percent this week after an unverified statement earlier this week suggested officials in Beijing were discussing a change. Gains continue despite pushback from authorities, and after Chinese President Xi Jinping (習近平) reaffirmed the "zero COVID" strategy at the Chinese Communist Party's National Congress last month.
The Shanghai Composite Index rose 2.43 percent to 3,070.80, up 5.31 percent from a week earlier.
"What we suspect is that China will model Hong Kong's reopening in the future," Jack Siu, chief investment officer for Greater China at Credit Suisse, told Bloomberg Television. "To fully reopen, we are at least nine months away from today."
Technology companies were the big winners in Hong Kong, with Alibaba Group Holding Ltd (阿里巴巴) and Tencent Holdings Ltd (騰訊) hitting double digits after reports of progress in US control of Chinese companies listed in New York. Alibaba and Tencent, among others, have faced withdrawal from Wall Street over a standoff between securities authorities as part of the wider spat between the US and China.
In Taiwan, the TAIEX closed 40.11 points, or 0.31 percent, at 13,026.71 points, after moving between 12,868.25 and 13,029.94. Revenue was NT$175.316 billion (US$5.45 billion).
In South Korea, the KOSPI rose 0.83 percent to 2,348.43, up 3.53 percent on a weekly basis, while the Indian SENSEX gained 0.19 percent to 60,950.36, up 1.65 percent weekly. .
The Australian S&P/ASX 200 rose 0.5 percent to 6,892.5, posting a weekly gain of 1.57 percent.
However, Tokyo was in the red as traders made up for Thursday's losses after returning from a one-day vacation.
The Nikkei 225 lost 1.68 percent to 27,199.74, down 0.53 percent from a week earlier, while the broader TOPIX fell 1.29 percent to 1,915.40, but rose 0.52 percent from a week earlier.
Additional Reporting by Staff Writer, with CNA
Comments are moderated. Keep comments relevant to the article. Comments containing abusive and obscene language, personal attacks of any kind or promotion will be removed and the user banned. The final decision is at the discretion of the Taipei Times.