The car has a fuel consumption of 11 kmpl in the city. It doesn't matter if I use the car in Normal or Eco mode. FE remains the same.
BHPian arpirocks recently shared this with other enthusiasts.
I have driven 10,000 km with my Honda City 5th generation and thought I would share my experiences with everyone.
ORVM cap lost:
Let me start with a recent incident where I mysteriously lost the ORVM mirror cover (driver's side). No accidents or mishaps; just left!
Last month, while traveling to Mahabaleshwar in the rain, I suddenly felt something fly out of the right side of the car. Being up to speed and in the first lane of the highway, I decided to inspect it at my next stop. Oddly enough, I discovered that the right ORVM mirror cap had just come off. No trace of damage. The ORVM functioned like new again!
Post-incident: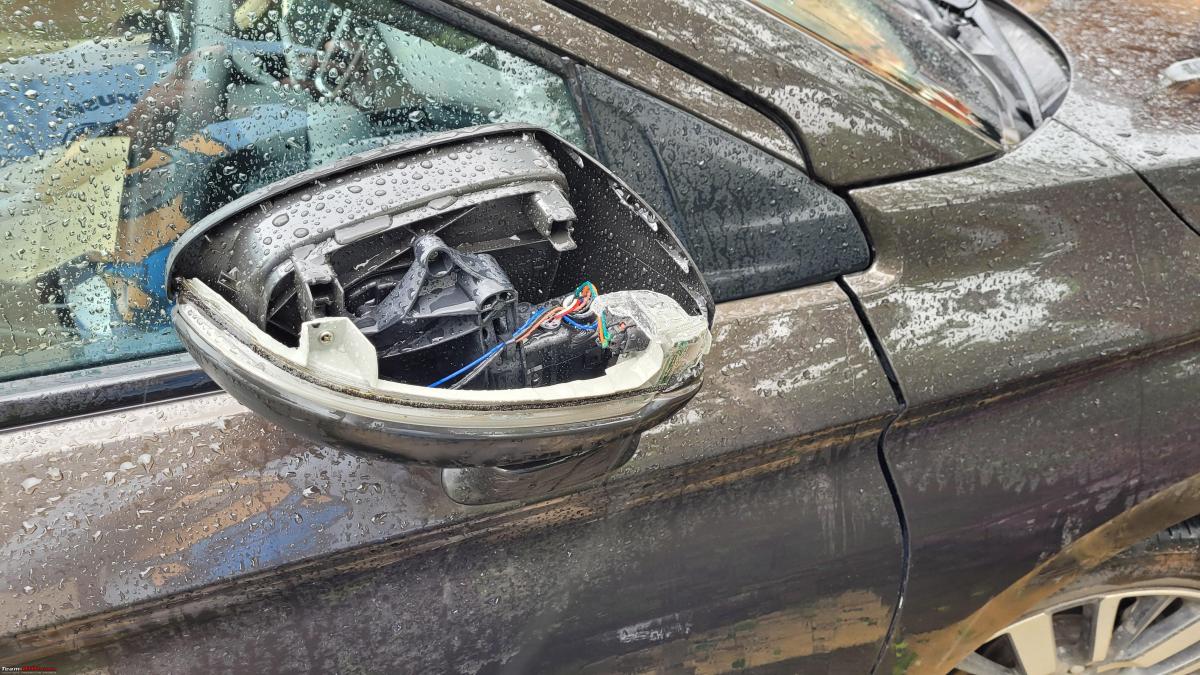 I grabbed a black trash bag from the nearby restaurant as I drove down the highway and covered the exposed area to prevent water damage.
After I sent the photos to the Honda service advisor when I got back to Pune, he immediately called and placed an order for a replacement part after explaining the repair cost. One of the most important PLUS points for me at Honda is the consistently excellent customer service. The SA informed me over the phone that the replacement part had arrived and that he had sent the cap to be painted.
The work was completed in about 15 minutes when I arrived the next day. Everything was solved in one trip.
No hassle service: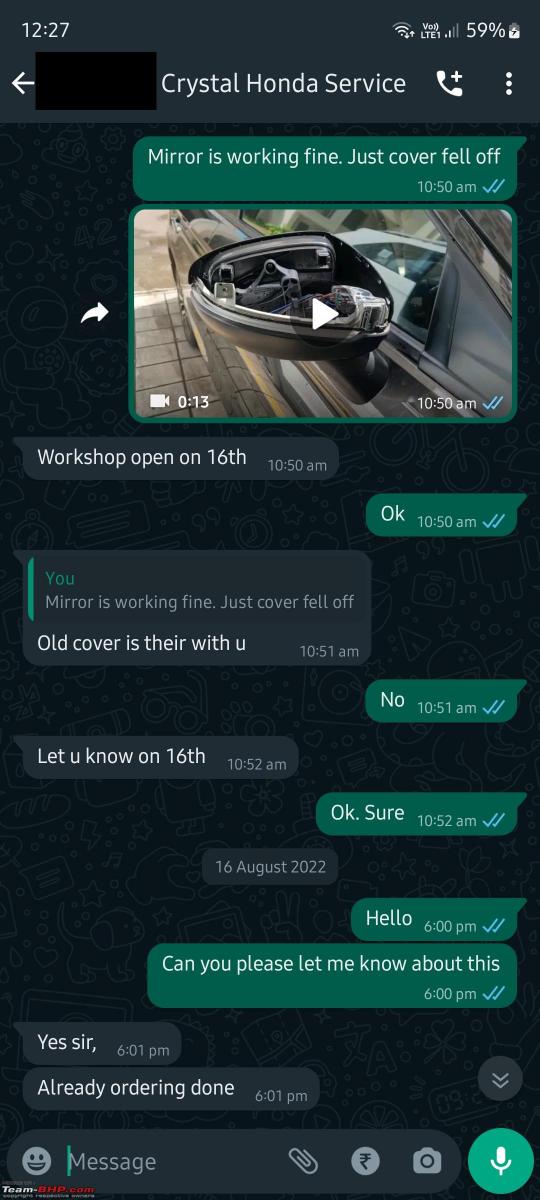 To secure the mirror cover: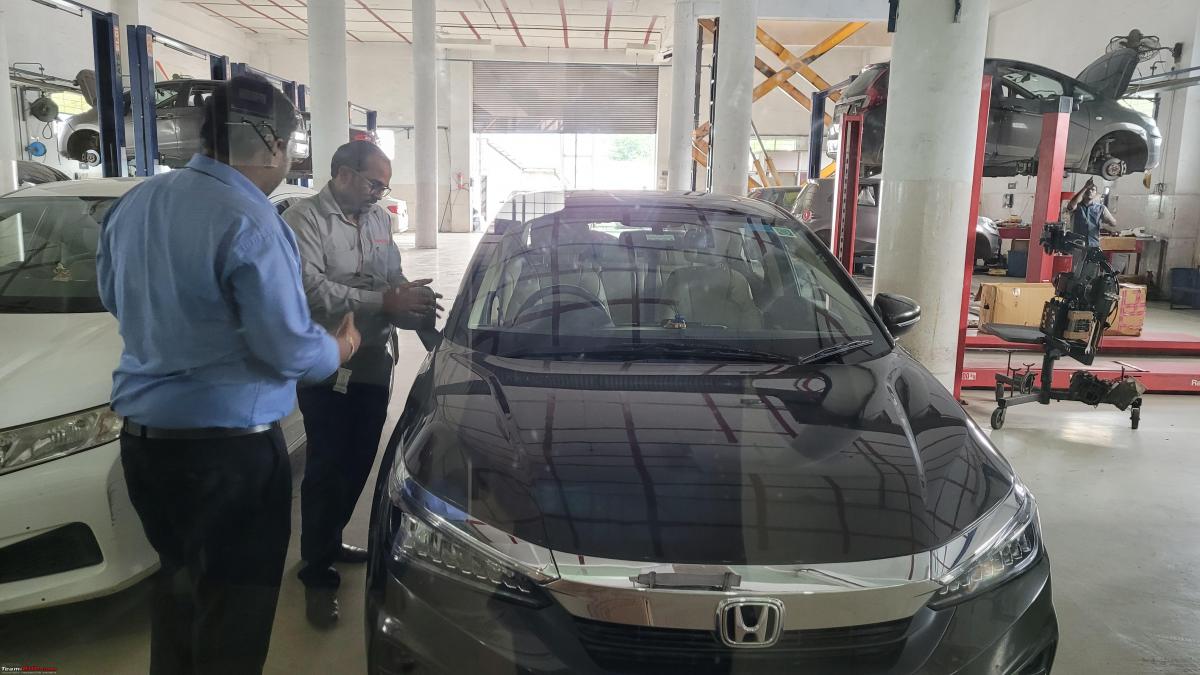 Unfortunately, the first thing I noticed after the adjustment was that the ORVM had developed a crack. At first I assumed the replacement cap was faulty. However, the SA quickly took it off and tried it in another city, where it fit perfectly.
ORVM cap: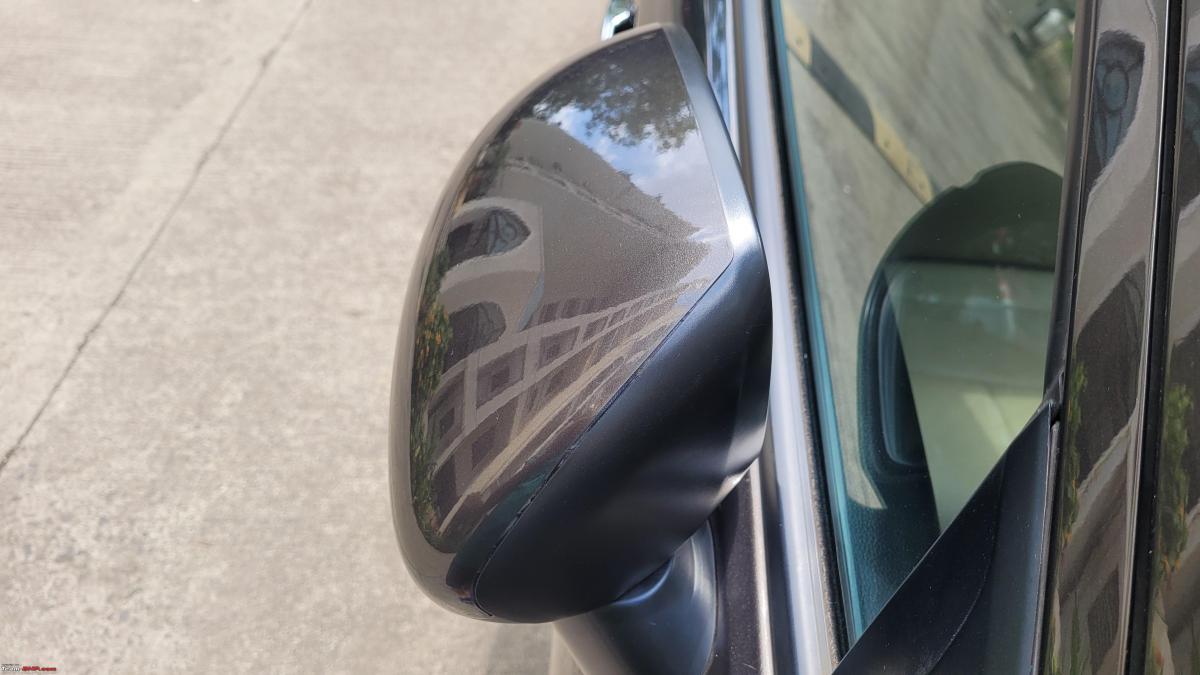 The explanation for the opening was that the ORVM case has a slight deformation, which caused the original cap to fall in the first place.
The only possibility I can think of is that someone or something played with the ORVM while the car was parked. Again, there are no visible symptoms of damage; all I see is a strange chasm that scares me every time I see it. Any suggestions on how to get around this are welcome.
Total Repair Cost: INR 1615.
Skullcap: INR 612. Paintwork: INR 1003. A short 10,000 km property assessment: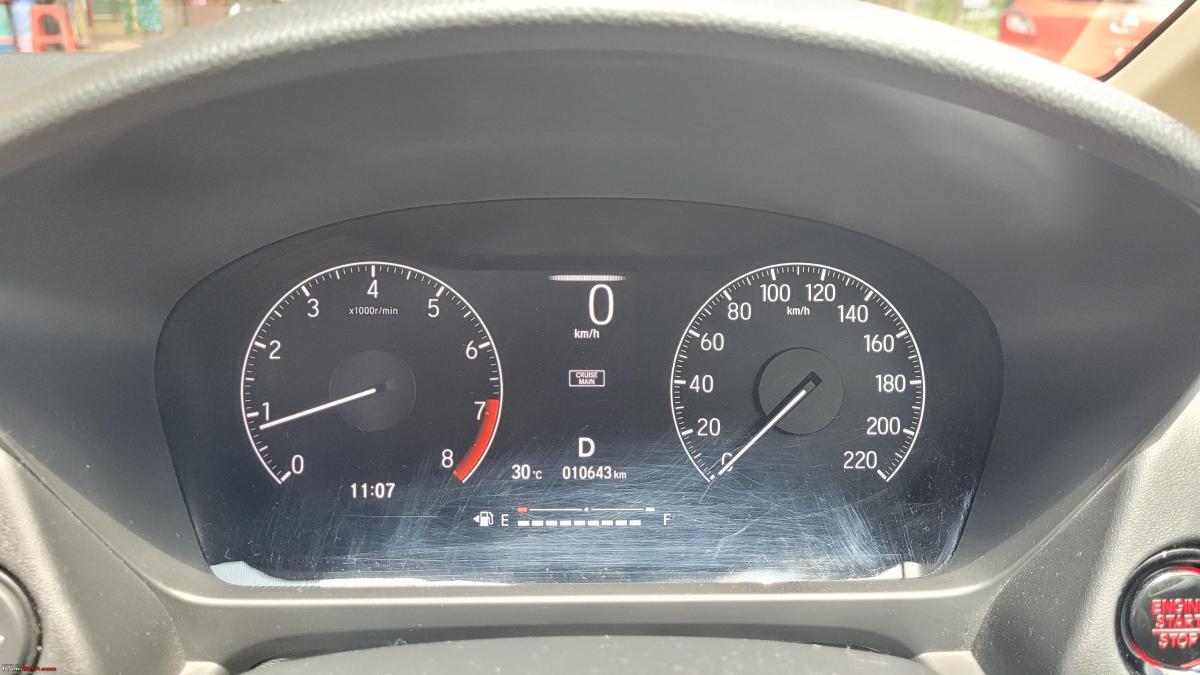 So far owning this car has been a great experience. I've been on several road trips and they are always fun. Never suffered from fatigue, even after a lot of driving. Ground clearance is the only significant drawback. 90% of the roads are passable for me, but the other 10%, especially during the rainy season, is difficult.
How did we get to the City?
Our nine-year-old Chevrolet Beat needed a replacement vehicle, so we started looking (mainly because Chevy had left the market and I wanted a brand I could rely on for service and maintenance). The first factor in selecting a car as we exited Beat was SPACE. Lots of it.
Here are the vehicles we have limited:
Tata Nexon: We never considered owning a Tata. We had just arrived at the Hyundai showroom in Pune when I learned that the SA I spoke with had taken a customer for a test drive. We were told to wait 15 minutes. Coincidentally, the Tata showroom was right next to the Hyundai dealership, so we decided to spend some time there. I fell in love with Nexon as soon as I got in. A large, sturdy, modern vehicle. Tata really had exceeded expectations. Despite hearing a lot of bad things about Tata, the positive energy and whole experience in the Tata showroom convinced us otherwise. In the end we even booked a car! Later when I told one of my childhood friends – who had a Safari Dicor – about this, he persuaded me to cancel the reservation and avoid Tata because of the horrible after sales experience he had experienced. Hyundai Verna: My first love was this car. I eagerly awaited the arrival of the BS6 Verna and it seems I was one of the first to test drive the vehicle as soon as it hit dealers. The interior of the car seemed a bit crowded, which was the only aspect I didn't like (we had already done a City Test Drive and were spoiled by the space). Hyundai Creta: Not booked due to the blatantly unprofessional attitude of the Hyundai sellers. They are proud of their best-selling cake. They don't seem to care that people come to the showrooms. Due to their lack of interest, we have removed both Hyundai vehicles from our list (will share a detailed experience soon). Honda City 5th Generation: I fell in love with the vehicle from the first test drive. The sales team was excellent. The features appealed to me. Despite all these considerations, one of my friends who works for Honda Cars India convinced us that with this new model, the company has improved by putting more emphasis on build quality and safety. I was more than excited to take the Beast home as a result.
Side note: I'm not sure if I should share this, but the same friend of mine told me that Honda maintains the highest standards and quality in Jazz, WR-V, City and Civic models. However, Amaze is not a member of this package. This car wasn't built to live up to Honda's true ideals, and I don't mean to offend anyone. It was released expressly to outdo the competition. (Again, not my words)
The car does not start:
Had an interesting experience during the first week of car ownership (~100km mark) when the car refused to start. I've documented more details here.
Likes: Quiet. Smooth ride. Space. Spare tire and extra space – The good thing is that Honda gave a full size spare (alloy and not the ugly steel) wheel in the car. I heard they have now resorted to the smaller steel wheel. What a pity. I also like that there is some extra trunk space when you expose the spare tire. Very convenient and convenient.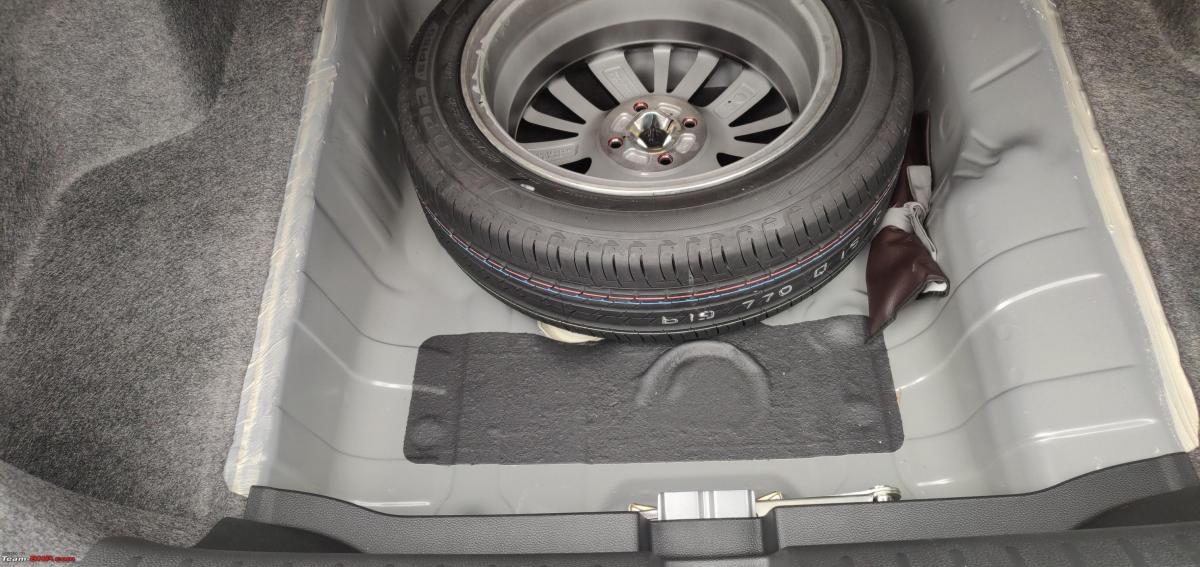 Side view camera: I love this one. Very helpful when navigating the bumper-to-bumper traffic and specifically when spotting the two-wheelers that are somehow always in the blind spot.
Dislikes: Ground clearance. Image quality mid: Could have used more modern technology. While not a deal breaker, it does the job and supports Android Auto/Carplay. However, to make the experience even smoother, I'm looking for a wireless Android car dongle. Looking for suggestions for a good reliable and easily available dongle (thought Motorola MA1 but it's never in stock).
Fuel consumption: The car has a fuel consumption of 11 kmpl in the city. It doesn't matter if I use the car in Normal or Eco mode. FE remains the same. In Eco mode, however, driving is no longer enjoyable because the car feels so underloaded. I often avoid it. That said, a car on the highway can hit an astonishing 20 to 22 km/h.
Thanks to Fuelio: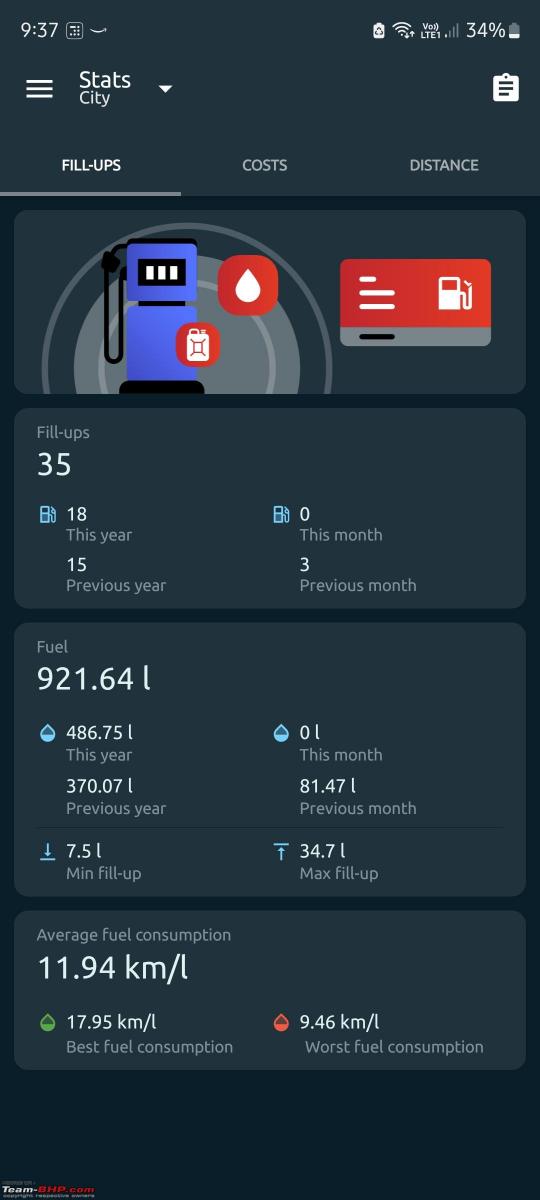 Driver's side storage compartment: There is a small storage compartment on the driver's side. This blocks the entrance and exit when it is opened. A few times, when I tried to exit the car without realizing that the storage lid was open, I managed to injure my leg and knock the lid off. Although I was able to replace the lid on both occasions with only minor hinge damage. Now I am very careful.
Storage compartment: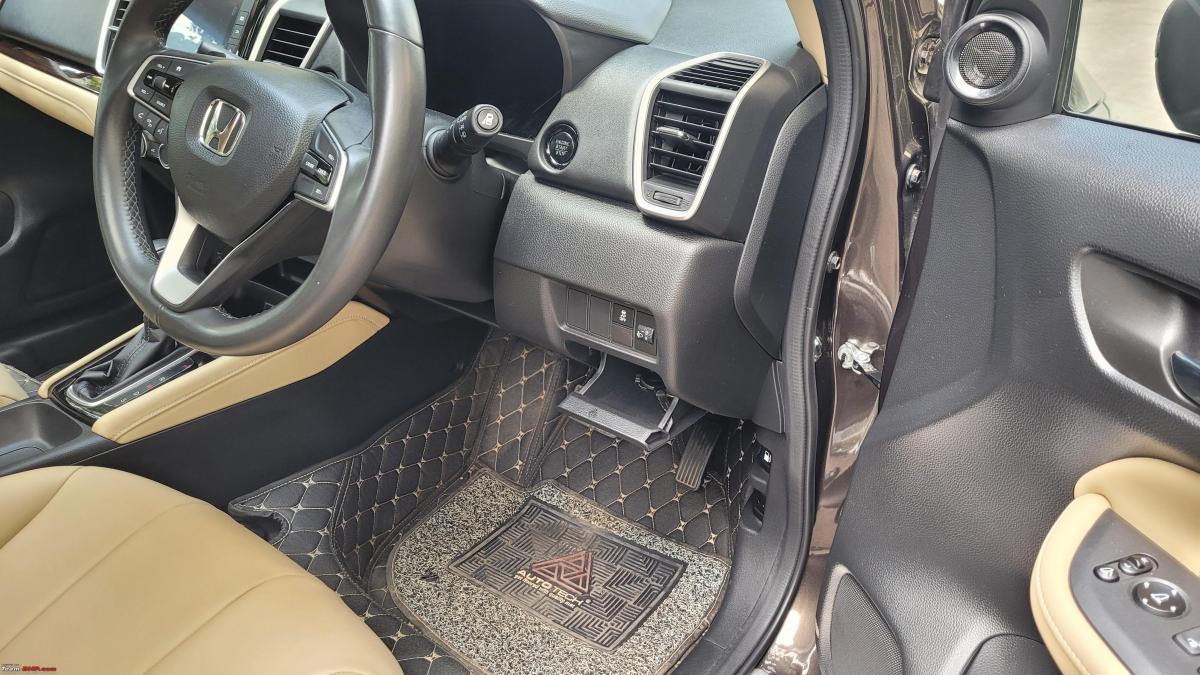 Damage to the hinge, although barely visible:
Honda Connect (poor connectivity): In terms of features, the Honda Connect is fantastic. Honda is offering the subscription for free for 5 years and no one knows for sure what will happen next (will it stay free or will Honda charge something?) Real-time vehicle monitoring, speed alerts, geo-fencing alerts, remote AC start/stop and other features are provided. Connectivity is hit and miss, which is the only downside of the whole system. There is a Vodafone SIM card in the car and Vodafone in Pune is known for poor connectivity I am told (unconfirmed).
Service experience & history:
The customer service has always been excellent. extremely skilled and comprehensive. The breakdown of the service record so far is shown here. Interestingly, Honda has changed the New Honda City's annual maintenance schedule from a 6-month period to a 1-year interval.
Maintenance booklet:
I did a planned wheel alignment and balancing at 10k km: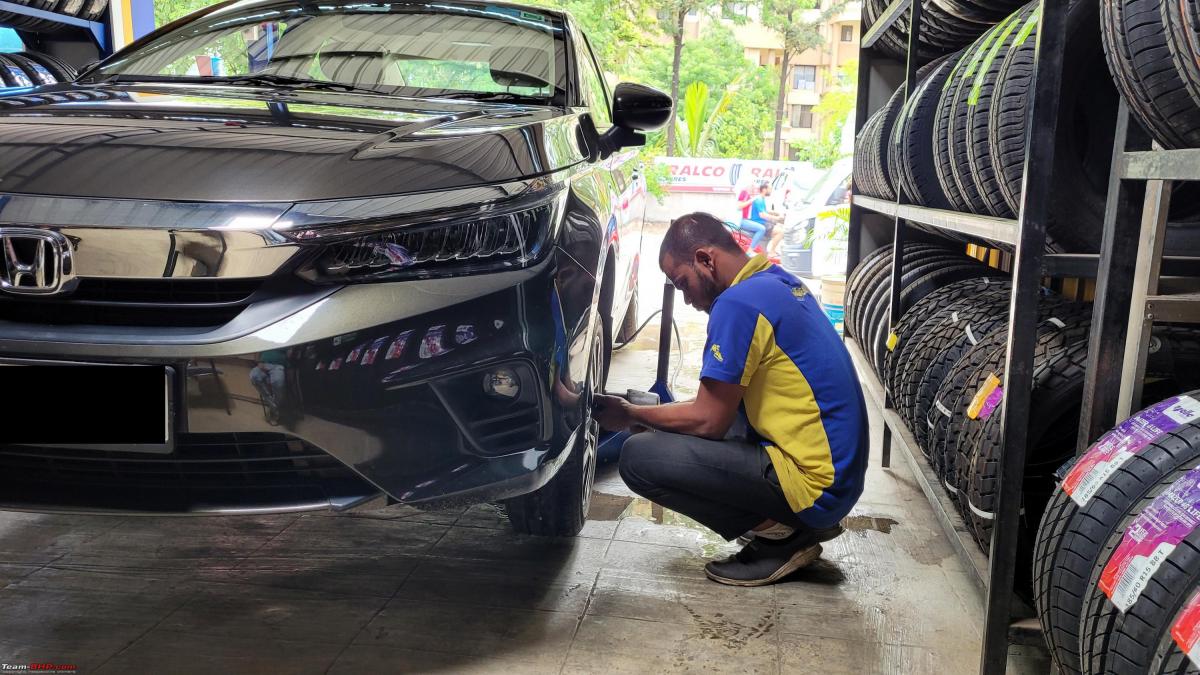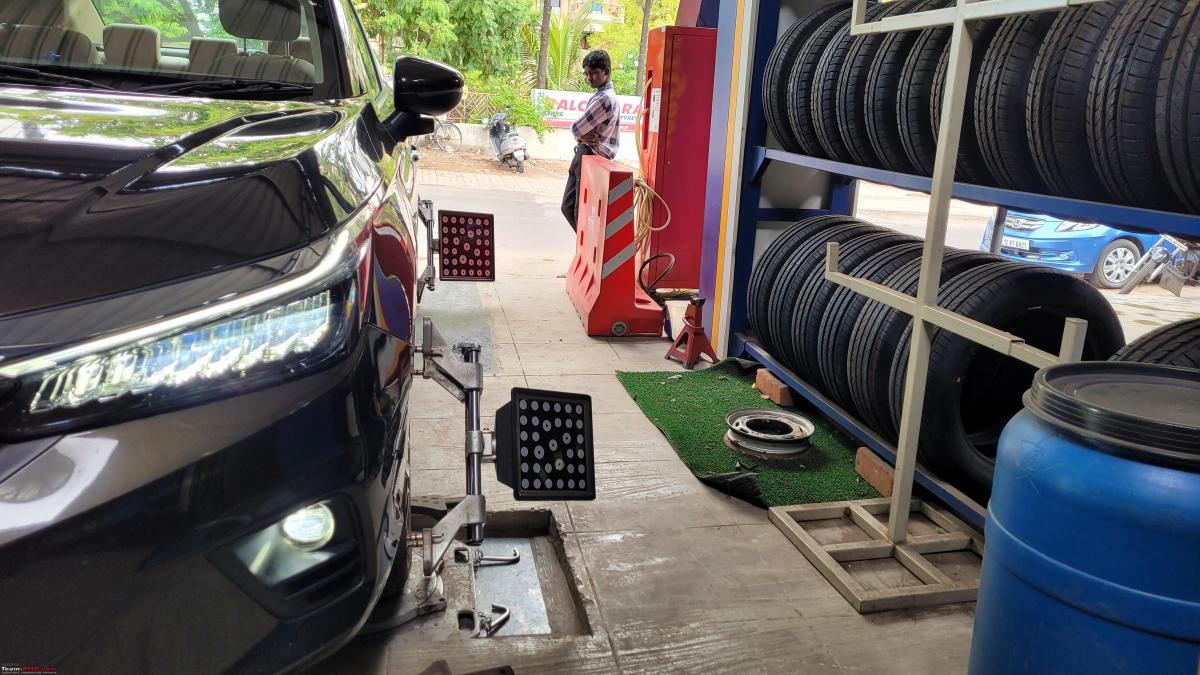 Accessories:
While I don't have many car accessories, these are some of the supplies I've included:
Gap Fillers (INR 300):
Luckily I found these on Amazon and they match the color of the car upholstery exactly. ideal for preventing dust and other small objects from rolling off the seats: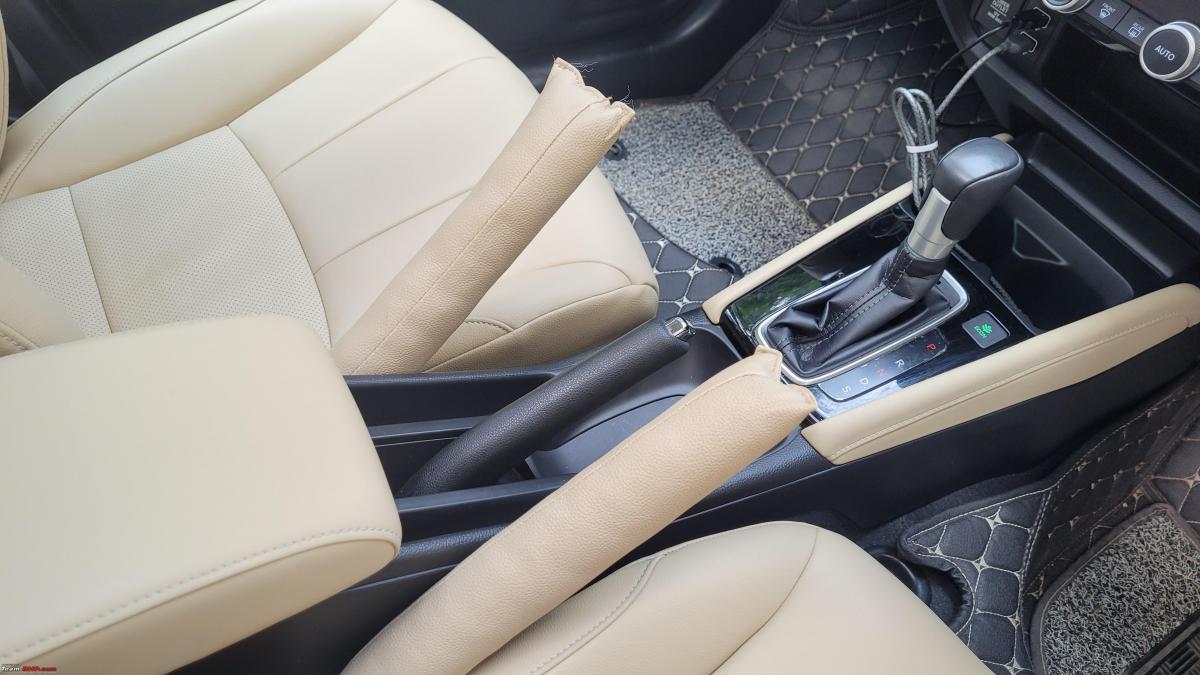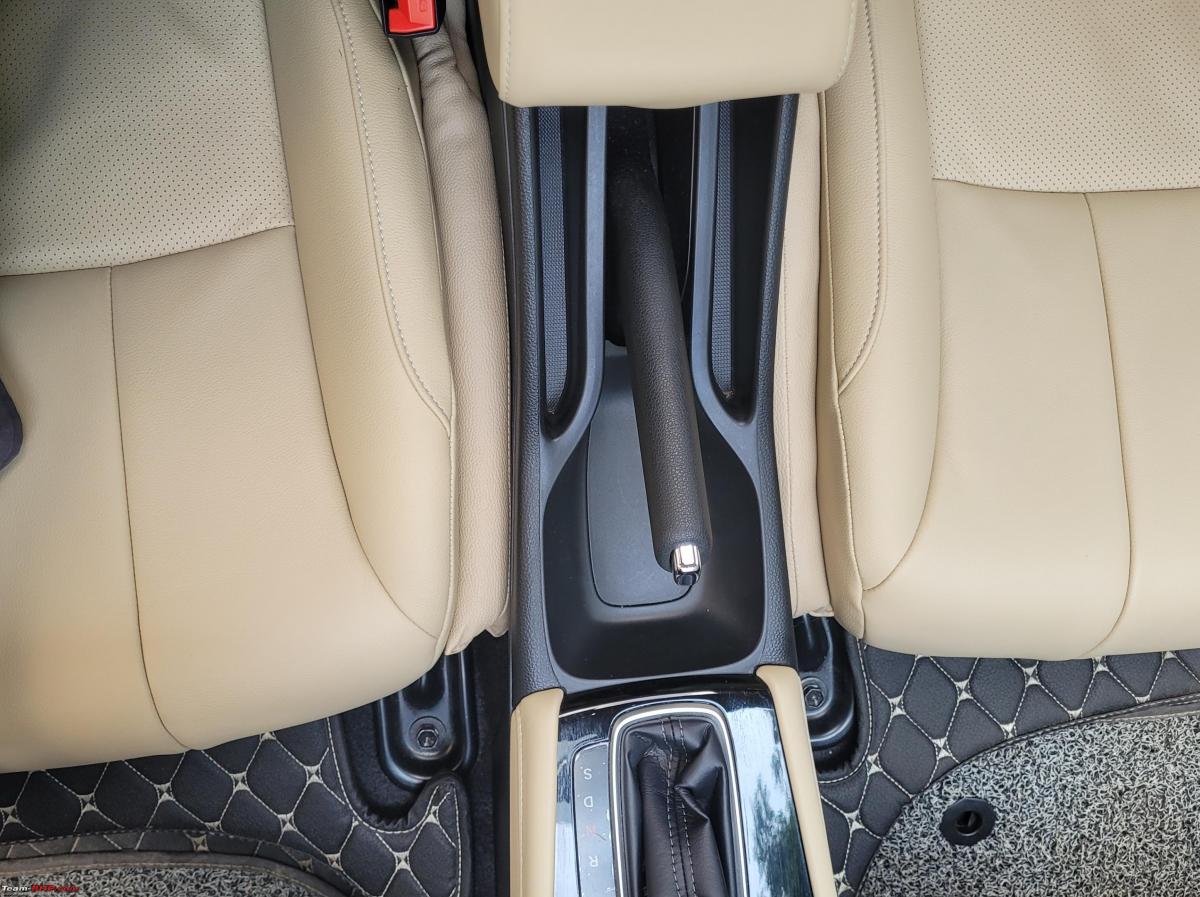 Amazon link
Rove Dash Cam (USD 100):
I came across this in Bestbuy while visiting the US. Never intended to keep it in my car, but I found a decent offer and brought it. I'd considered going to a nearby auto shop to get it fixed, but thought of a DIY strategy first. Apparently it was easy to install and I had no trouble clearing the path of the wiring through the pillars: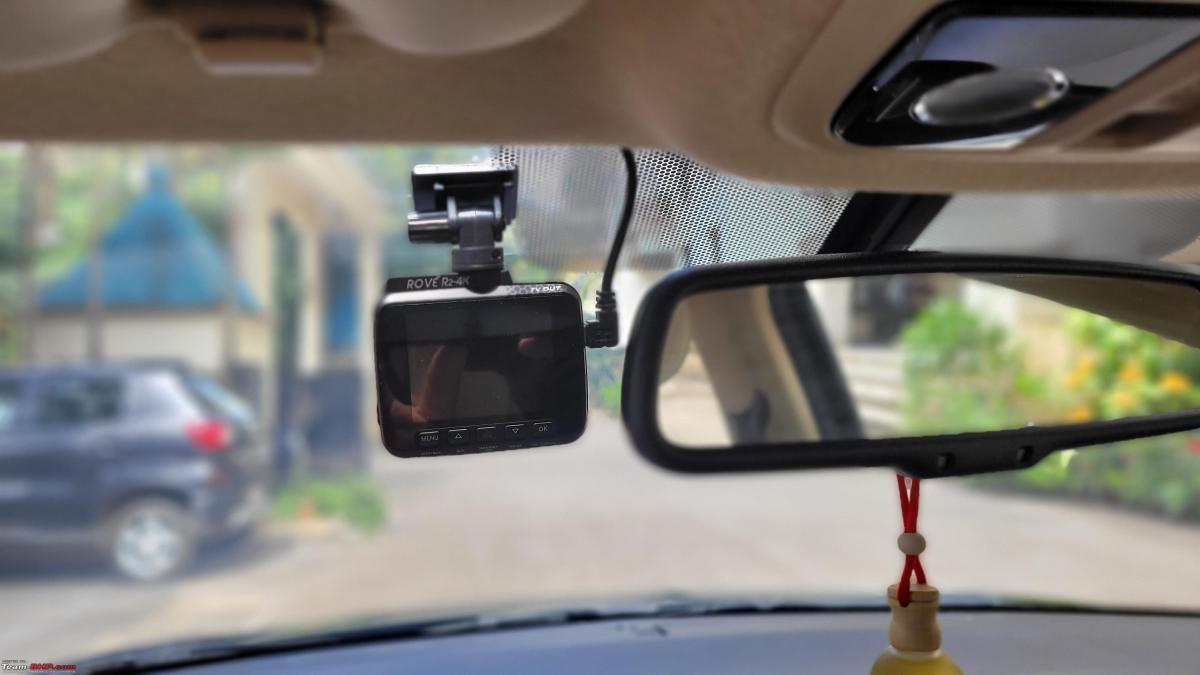 Amazon link:
7d Mats (INR 6000):
Excellent for keeping the car clean! I appreciate how easy they are to clean and how much coverage they provide:
Front mats: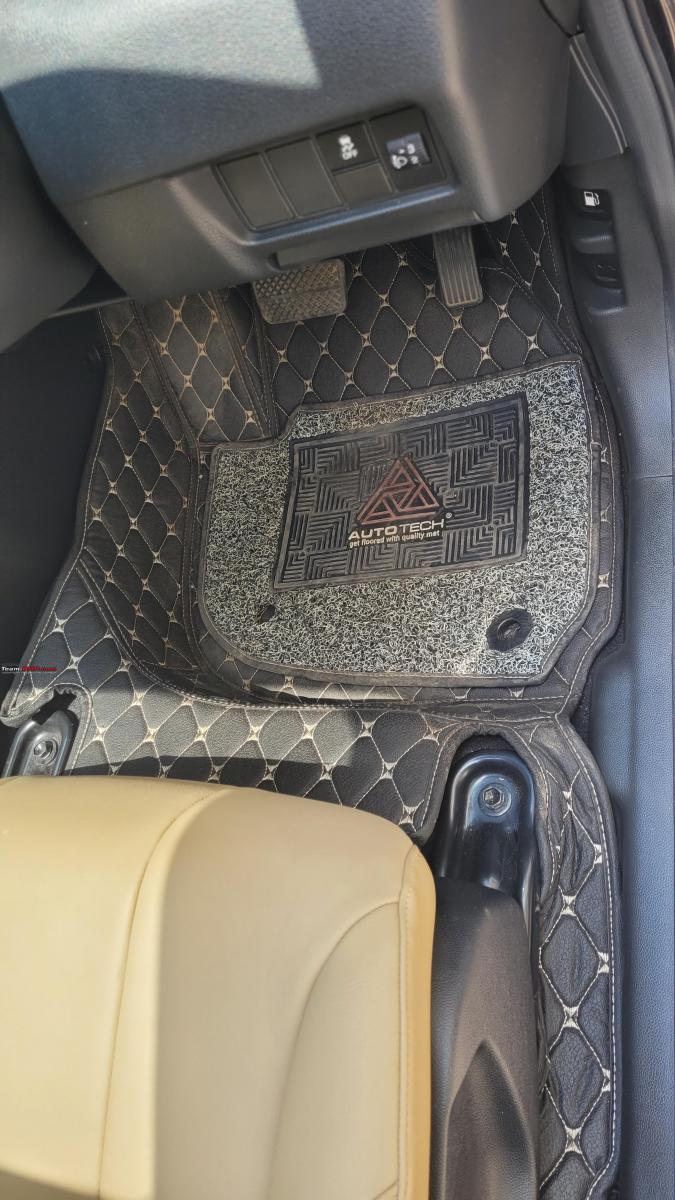 Mats on the back: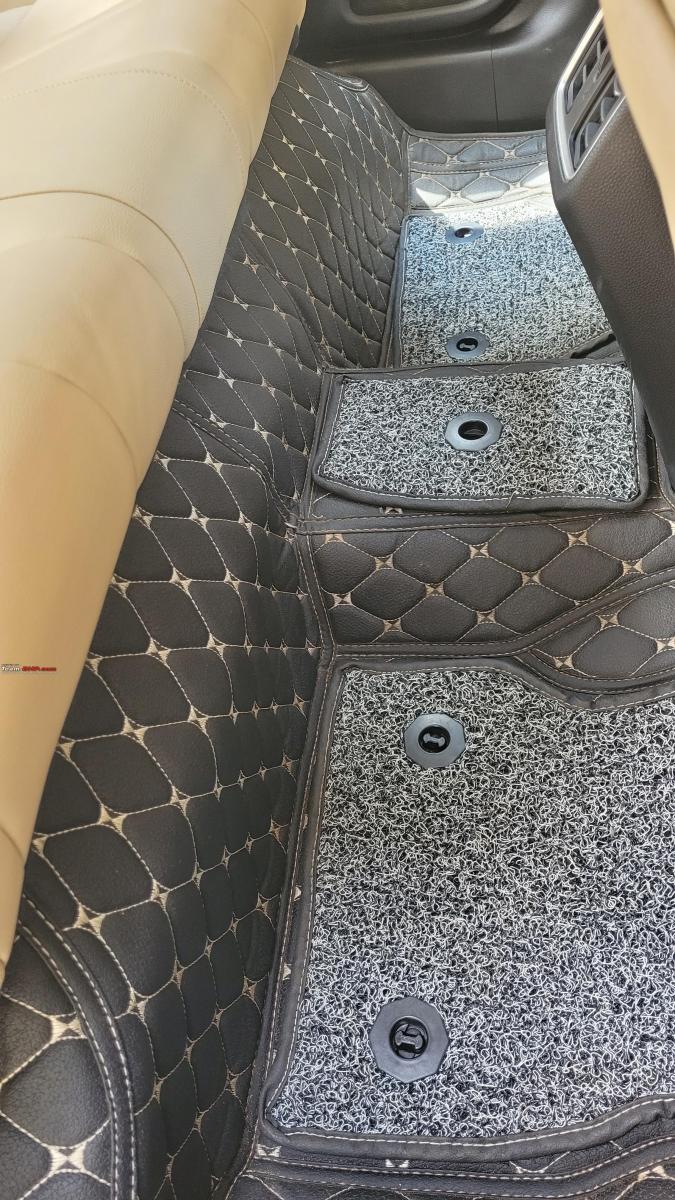 Check out BHPian's comments for more insights and information.